Traditional business applications have always been very complicated and expensive. The amount and variety of hardware and software required to run them are daunting. You need a whole team of experts to install, configure, test, run, secure, and update them.
When you multiply this effort across dozens or hundreds of applications or storage, it becomes a huge burden on the business. We cannot forget the risks involved such as hardware failure or natural calamities.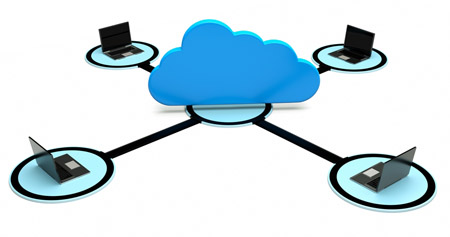 Cloud storage makes your data accessible anywhere
Cloud Computing is the answer - Imagine a central system, which takes away all the burden of hardware and software, including maintenance and expansion, just provides us with only services we need, be it storage or processing.
BCPI's Web Based Document Management Hosting Service include a cost-effective online document management system to maintain your organization's paper records, documents, etc., at our web hosting site, easily accessed by authorized client computers from anywhere.
Going Paperless is Must for Cloud
To store your data in the cloud and secure it, it must be converted to digital format. This converted data should be searchable and indexed, so that you can find the relevent information instantly whenever it is needed.
BCPI can help you to convert all your paper/film data into digital documents professionally. BCPI has state-of-the-art technologies and years of experience working with government agencies and business organizations.
To get more information, read about BCPI's Document Scanning & Imaging services.
Secure Your Data for Future
Once your data is ready to be archived, BCPI keeps your data secure, managed and instantly accessible. Since it is stored in multiple locations around the globe, ono of them being at your own site, your data is completely safe and accessible.