BCPI NEWS
February 2010
BCPI has moved to new, larger facilities in Gaithersburg Maryland. We've grown and expanded to meet the increasing need for our document management skills and services.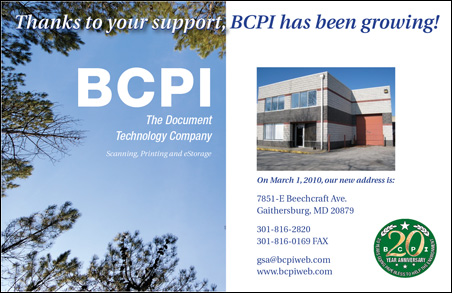 July 2009
BCPI receives the Award of "Best of Rockville" for Lithographic Form printing from the US Commerce Association.
February 2009
BCPI presents a new web site design with added features and information.
November 2007
The BCPI FCC EARLY BIRD EX PARTE service launches here.
October 2007
BCPI expands it's FCC document services here.
July 2007
BCPI has a special page which discusses our Schedule 36 and GSA Stars GWAC capabilities here.
Read About the individual GSA SIN categories here.
May 2007
BCPI has a four-part animated presentation about our printing capabilities here.
March 2006
BCPI expands it's printing and online capabilities.
January 2005
BCPI expands its services under contract as the official Nuclear Regulatory Commission duplicator contractor. BCPI began it's association with the NRC in November of 2004. Read about the BCPI NRC services here. To see the official notice of BCPI being awarded the NRC contract, see the notice here (under enclosure F)
December 2004
BCPI has launched a new online registration system for access todaily digest Ex Parte FCC documents, along with new FCC pages describing BCPI services here.
November 2004
BCPI has added Audio/Video duplicating services to our official FCC services list. See our page here to learn about our FCC services.
June, 2004
BCPI is now the official FCC copying & duplicating contractor. Our office at the FCC building in Washington D.C. is equipped and ready to handle all of your FCC document needs. See our page here to learn about our FCC services.
December 2003
BCPI will be opening new management
and meeting offices in Rockville soon.
October 15 2003
BCPI has scanned and converted into digital format over a million documents for the U.S Government for paperless work flow solutions.